Road Trip in Uganda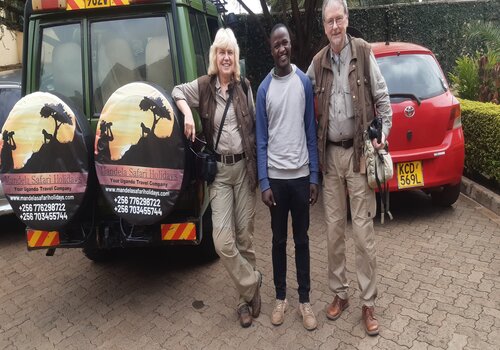 Road Trip in Uganda
Road trip in Uganda is the best way to experience Uganda.
Uganda is the pearl of Africa with the most beautiful sceneries and favorable climatic
conditions. The people of Uganda are hospitable and welcoming.
Reasons why one has to go for a road trip in Uganda.
People who live in Uganda are some of the friendliest people on the continent. Sociable and friendly people are willing to welcome or help you through your visit to their country. According to the United Nations, the country has the most welcoming refugee policy in the World.
Welcoming all nationalities is an intrinsic part of the culture, and the people of Uganda are
quick to offer smiles to newcomers. The people are amazingly friendly.
Physical Attractions
Uganda has a number of outstanding features. Among them are;
Lake Vitoria, are the largest freshwater lake on the continent.
the source of the longest river, the strongest waterfall,
the largest number of primates,
and the highest number of mountain gorillas worldwide.
Mountain Rwenzori
The Rolex
In Uganda, you don't wear Rolex, you eat it. Don't be confused. Rolex is a type of fast food
where an omelette is wrapped in a chapatti (Roll eggs = Rolex). Ugandans love it so much
that they have created an annual Rolex festival that is meant to celebrate this street food. And
one can enjoy this meal while on the road trip.
The Equator
There are only a few countries that the equator runs through. Uganda is one of them. In
Uganda, the equator is located 75 km south of Kampala, where you can purchase
memorabilia and watch cool equator water experiments. You can also visit and enjoy that
experience while on your road trip throughout Uganda.
Ssese Islands
Another thing is the Islands of Ssese. There is a beautiful archipelago on Lake Victoria
consisting of 84 islands that you must visit. On the islands, you can find many things to do,
like biking, hiking, enjoying a beach bonfire, drinking at a resort bar, and lying on the beach.
And if you are someone who just wants to roam around and do nothing, these islands are the
perfect choice for you.
The above are just a few factors as to why one should have a road trip in Uganda. To do find a good rental car depending on where you want to travel and what you want to do.