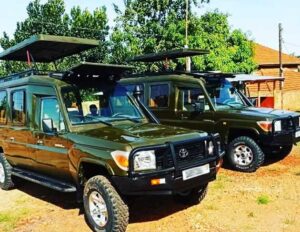 The Extended Landcruiser car rental Uganda is the ultimate safari car for anyone visiting East Africa for a safari journey. We custom build this car for the toughest of roads, keeping in mind that our safari parks have bumpy roads.
It comes in two versions and these are; five or seven passenger seater. Both will accommodate passengers comfortably. On top of that, we make sure that each passenger gets a window seat to so as not to miss out on the wildlife and nature.
Landcruiser Car Rental Uganda Features
The Extended Landcruiser Uganda car rental comes with a popup roof to ensure that clients do not miss the wildlife while in the parks. The roof provides a 360 degrees view and has a shade to protect you from the hard sunshine. Remember Uganda is crossed by the equator. This makes the weather warm most part of the year. The hard tyres which can pass through all the mountain ranges, stony areas and the muddy roads.
The car comes with a working air conditioning system to regulate the temperature conditions in the interior. It also comes with a large enough cargo compartment for all your luggage.
In addition to the above the Landcruiser has charging sockets to ensure that you never out of battery on your phones and cameras.  It also comes with a fridge where you can keep all your drinks and have them while out on a game drive.
To make things even better, our land cruiser has two spare tyres. This is because you can have a flat tyre any time while on African roads. So having two spare tyres makes a lot of sense. It also comes with a first aid kit for health emergencies.
At Ugandan car rentals we provide you with a GPS on request during a self-drive not forgetting that our expert drivers are ready to take you for the thrilling adventure at a certain price rate. They are available for all cars in our fleet.