Extended Car Hire Uganda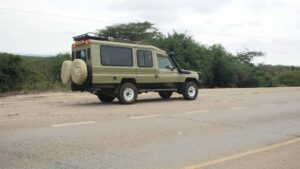 The Landcruiser extended car hire Uganda is the ultimate safari vehicle for Uganda, Rwanda, Kenya and Tanzania. If travelling as a group, you might not find a better safari car.
Here at Ugandan Car rentals we without doubt offer the best four-wheel drive land cruisers for both safaris and camping. These are the most comfortable and relaxing vehicles for you to enjoy your safari. Accommodating 6 to 8 people with adequate space for cargo. The pop-up rooftop which gives our clients a 360 degrees' easy access to view the stunningly beautiful wildlife and other safari adventures while in the park.
Features of the Landcruiser Rental Car
The open sliding windows also give a perfect view while on the road as you enjoy what Africa has to offer.
They without doubt have Air Conditioners for  in regulating different temperature conditions. They also have  in-built fridges to provide the cold or warm water to quench thirsty. Some have charging circuits thus you can charge your phones and cameras.  MP3/ CD Players for entertainment on the road.
Our safari land cruiser extended has two spare tyres which can be used in case of a puncture. This means that you cannot easily get stranded due to flat tyres while on African roads.
As if that is not enough, it also has a first aid kit for any health emergencies. It also has an axe and a spade for any road emergencies.
This car is not available for self drive safaris. We only rent it it out with one of our safari driver guides. They know the region, the roads and also know these cars. They have taken some defensive driving courses which makes them the right people to drive you in this part of Africa.
Do not hesitate to rent with us and travel like a royalty.
Rent safari Land cruiser plus Driver =USD 250 Per day
Rent Safari Landcruiser with fuel = USD 350 Per day