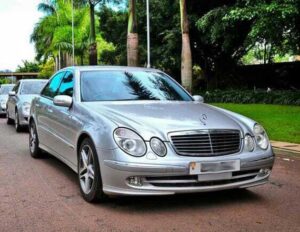 The Mercedes Benz is a luxury car equipped with better performance capabilities, lavish interiors and all the latest safety and technology features. Unique and magnificent exterior. Extra ordinary car lights and a shiny surface.
The interior comprises of leather seats, an AC and finally a sunroof. You can hire our Benz for executive meetings and also executive Airport transfers.
The Mercedes Benz is available for both self-drive and with a specialized driver from Ugandan car rentals.
Hire the Benz by simply emailing us on ugandancarrentals@gmail.com or  call on 0776298722 for an executive drive.