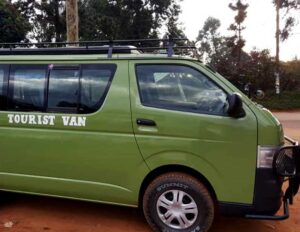 The safari drone vans have 4WD and thus can maneuver through the challenging road sections. A Toyota Hiace Drone is the most luxury 4X4 vans available for hire to large groups. It can carry up to a maximum of 12 passengers. It has comfortable seats and it's very stable on the road. It has a low fuel consumption as it can sometimes turn electric when exceeds 80km/hr.
The Safari vehicle comes with equipment like a first aid kit, a fire extinguisher along with a spade and axe attached to the vehicle to assist in handling emergency situations during the journeys.
The clear windows and the pop up roof in some makes them suitable for wild games viewing while on wild life safaris.