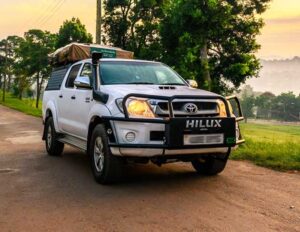 The Toyota Hilux is a 4X4 car wheel an on and off-road pick-up truck accommodating 5 people. It has hard tyres thus adhere harsh road conditions. Hilux is a combination of "high" and "luxury". This means its also an executive SUV so travel in luxury with us at Ugandan car rentals.
It has an AC to regulate temperature conditions while on the road, large cargo compartment to carry all the travelling items. An MP3/CD for entertainment while on the road.
This is available for both self-drive and with a driver. So don't hesitate to contact us via our email ugandancarrentals@gmail.com or on 0776298722.