The VX Landcruiser car hire Uganda is available for rent for your journeys in East Africa. Its tough exterior can withstand harsh conditions. This the perfect off-roading vehicle when traveling in Uganda and the rest of East Africa.
Features of the Landcruiser Car Hire Uganda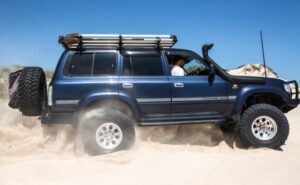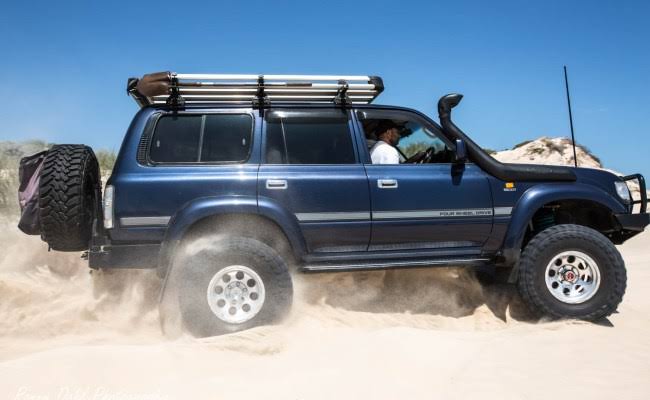 We have custom built this car with tough tires, after market coil springs and shock absorbers, navigation system, compasses, 2 spare tires, sport led lights and so on.  This car can also come with a rooftop tent or ground tents depending on your wishes. We can as well avail a mobile fridge on request. Just let us know how you want your car presented. Much as these cars can easily cruise above 150km/hr., we have customised them not for speed but for comfort and to handle the challenging African roads. Wondering how different our Land cruiser VX 80 series camper tent is? Wonder no more.
Do you love camping? Rent our 4X4 Land cruiser VX 80 series camper tent which comes with a double roof top tent for 1 to 2 campers. With a pop-roof for game viewing.
With a big fuel tank of 130 liters, you are sure that you can travel long journeys without need to refuel. However, should you want a can for spare fuel, just let us know and we shall avail it.
This type of Land cruiser with a roof top tent not only saves your time on your time that you would have used to pitch assemble or disassemble your tent, but also gets your much more organized since it keeps all the other camping equipment in the same place and it is budget friendly. It also clears off the accommodation stress while travelling.
This land cruiser has a big trunk which provides enough space for all your cargo and camping gear. Furthermore, an electric fridge on order, GPS and 2 spare tires.
Don't hesitate to book with Ugandan car rentals for a self-drive experience.