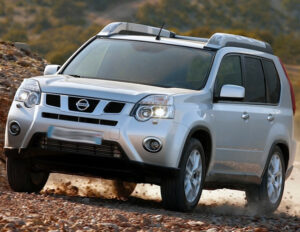 The Nissan xtrail car hire Kampala is a small Sports Utility Vehicle available for self drive journeys in Uganda.  It accommodates up to 4 passengers. The seats are very spacious and comfortable with a wide leg space which gives you enough comfort as you travel. Its seats recline and slide on rails to provide enough space if needed.
 Nissan Xtrail car hire Kampala Features
This SUV has a functioning Air conditioning system. It is mostly hired for driving around town and therefore an air conditioner is very handy.
It is also available for family rental, weekend car hire among others. Our Nissan XTrail is available for both self-drive in Uganda. We strictly do not rent this vehicle for cross boarder travel. This car is also ideal for people who want to go out but afraid to use public transport. Yes it is not advisable to use public transport in the middle of the night in Ugandan parks. The car comes with a usb port and a Bluetooth radio system which you can use for entertainment while traveling.
In addition to the above features, we can also avail for you a freezer. This can be very useful especially if you are expecting to travel upcountry.
It is important to note that this is the most affordable car in our fleet. Its starting price is at USD 45 per day with out driver. We can give you a driver at an extra USD 30 per day.
Are you afraid of driving big cars? Do you want a small car that you can easily park in the challenging towns of Uganda? Or you want to go for the not so expensive vehicle but still gets the job done? The Nissan xtrail is the answer. Talk to us today to book this car.
Don't hesitate to contact us and make reservations via our email on ugandancarrentals@gmail.com or contact us on our telephone number 0776298722